Looks like this event has already ended.
Check out upcoming events by this organizer, or organize your very own event.
Another Chance to "Learn How To Rock Your Buck!"...That is if you do your homework! Read more below.

New York, NY
Event Details
Another Chance to ".
Learn How To Rock Your Buck!
...That is if you do your homework! Read more below
From:
Vidal Peoples and Frank Mesa
(Presenters)
Strategies For Wealth
140 Broadway – 22nd Floor
New York, NY 10005
www.strategiesforwealth.com


Synopsis & Homework (Session 1)
If you were not able to attend Session 1, whether you had a reservation or not, and would like to join us for Sessions 2 and 3, please take a look at the Synopsis & Homework below, and join us for the last two sessions.
Workshop 1 - OVERVIEW

At the beginning of the workshop introductions were made and everyone was asked to share their profession, expectations for the workshop and what they felt was their unique ability. The history of Strategies For Wealth (SFW) was shared and our philosophy of Protection (first, full and forever), Savings, and Investing financial planning.
We also discussed the importance of coaches in life particularly a financial coach.

The following goal settings questions were asked:

How important is money in your life?  (on a scale of 1-10)

How well have you managed your money?  (on a scale of 1-10)

Sitting here 3 yrs from now…  What would you like to have accomplished that would make you feel good financially?


Workshop Takeaways:
Wealth defined: Strategies For Wealth - "living in a condition of well being". This means different things to different people

Reverence must be given to one's personal finances - therefore the workshop is given over three evenings and not in one 5-hour workshop

Only one person out of the eight in attendance received personal finance education while in school ranging from grade school to graduate school

There is no 'one-size' fits all or templated plan that is applicable for everyone. Plans are designed based on one's goals and circumstances

No one will be asked to share any of their personal information. They will be asked what they feel or have discovered by going through the process

Homework:

Attendees were asked to complete the attached Possibility Identifiers and answer the following questions:

What strengths do you posses that will enable you to reach you financial goals?

What threats can prevent you from reaching your financial goals?

What opportunities would you like to exploit using your strengths if your threats were no longer an issue?

Again, you will NOT be asked to share any of your personal information.

Workshop - Session 2:

A sample case study will be examined using the possibility identifier booklet with Frank and Vidal.
This section of the workshop is designed to be interactive. You will be asked to participate by giving your feedback and understanding on the topics and concepts covered in the case.

Learn How To Rock Your Buck!
Sponsored & Recommended By Zorka Kovacevich of Blog A Business Card
Event Type Workshop
When
Please note, this workshop is presented in 3 parts and your ticket purchase guarantees entry to all 3 sessions
Session 1:  Thursday, Sept 15 (6:30pm - 8:00pm)
Session 2:  Thursday, Sept 22 (6:30pm - 8:00pm)
Session 3:  Thursday, Sept 29 (6:30pm - 8:00pm)
Where Corporate Offices of...Strategies for Wealth
Click on business name above to find out more about the Strategies for Wealth firm

140 Broadway
22nd Floor
New York, NY 10005 
Tel. 212 701-7942
Presenters & Hosts Click on names below to read professional bios

Frank Mesa

Vidal Peoples
Additional Information
Please bring valid ID; required by Building Security for entry.
Courtesy refreshments will be served.
Reserve your place early - workshop is limited to only 15 participants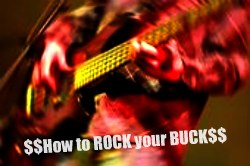 The way to abundance is a one way street-- there are no two ways about it! You are either heading for lack, or heading for abundance." Florence Scovel Shinn, Author, "The Game of Life and How to Play It" (1871-1940)
---
Please Read: It is 100% guaranteed that you will not be pitched financial products and services during this event. You will not be required to share your confidential information with anyone. This is strictly a self-improvement, financial workshop and you are not required to buy anything.
All that's required is that you bring an open mind and a true desire to learn about how to create your own personal strategy for wealth.
I am recommending this workshop to you because I believe that these people are truly dedicated to giving back to their community by sharing their expertise and knowledge.
This is why I am sponsoring this workshop and urge you to grab this opportunity to improve your financial health.
Seating is limited to only 15 people, please RSVP early.
I wish you unlimited success! -Zorka Kovacevich
---
Are you headed straight into poverty or prosperity?
It's a choice! You don't have to be a student of metaphysics like old Flo to understand that her words are right on the money-- especially in today's economy. Her wisdom applies to each and every one of us in good or bad times.
Having plenty of money or living in terror about not having enough is not about what's going on in the world. It's all about what's going on in your world!
It's simply about what you chose to do with what you have.
And, that's about as personal as it gets!
Even if you don't have a dime to spare it's still all up to you. You can either let the world take every single dollar you earn away from you, or you can chose to 'rock your buck' into more of the same. Multiply it. Grow it. Enjoy it!
Whether you're flush with cash or down and out, this workshop will give you the knowledge about how to make more money to create wealth. Preparation, is everything it's been said -- the time to prepare is now when an opportunity like this knocks on your door -- answer it, grab it, work it!
Easier said then done?
Not so, according to Ms. Shinn who successfully devoted her life to helping everyone who was willing to help themselves. Action was the key word in her vocabulary. You can hope and pray for a better day 'til the cows come home, but it ain't going to improve your bottom line. They don't call it "personal wealth" because it's a shared responsibility. 
What a bummer! Huh! Afterall, who wants more responsibility? It's hard enough making the money and now you're supposed to think about rockin' it to make more. Of course, this means one thing only!  YOU, that's right, just you all by your lonely self are totally and completely responsible to take the necessary steps to make this happen.
Sounds like a big deal? Sure it is and it requires more than just wishful thinking. Or desire. It requires true determination to live a better life. It's hard work making money, but putting your money to work for you is what I call rockin' your buck and you'll love the results because the wonderful up side is that you get to keep it all!
Let's talk a bit about the word "wealth".
What does it mean to you? Do you really believe you can be happy without it?
Sure you can -- if you're a guppy, but the rest of us need quite a bit more than a tank full of water to live right; namely nutritious food, a few fantastic electronics, and an occasional experience, when we want it, that takes us out of our ordinary setting and I'm not talking about a day spent at your local street fair. I'm talking about adding joy to your life!
Guppies on the other hand, live only 2-3 years so there's really no need for them to plan too far ahead.
Want to rock your buck into abundance, but don't know where to start?
Listen up: there's a 3-part practically free workshop called: "Living in Financial Well Being" which is being generously presented by a couple of really wiz financial guys right in their corporate offices at Strategies for Wealth.
Strategies for Wealth has been around a lot longer than most of us (over 70 years) so they know what they're talking about. They have a proven track record for "making the lives of their clients unrecognizably richer in wealth and spirit".
In other words, they know what they're doing and right now, for a limited time they are willing to share with you the necessary knowledge that will point you into the right direction-- the one and only important direction: abundance.
When I say practically free, I mean it's only 5 bucks and not to worry if you don't have it. Times are tough and will get better only because you're willing to take responsibility to turn things around for yourself. I'm happy to spot you because I know that if you attend this workshop you will pay me back!
All you got to do is email me and say you need me to back you and I will with no questions asked -- 100% interest free--with no strings attached. Here's my email address: ZorkaKovacevich@aol.com. Just add to the subject line: "Give me 5". That's it. I'll send you a prepaid pass ASAP!
(I have no doubt I'll see my five dollars again because I know you're headed for amazing abundance so why should I worry?)
Here's a super short description of what you can expect from this power-packed workshop:

 You will learn that making money is both fun and good for your health. This workshop is setup in an interactive, open discussion forum style. No one will lecture you or tell you are a bad boy or girl just because you don't have this know-how already and aren't rolling in dough like a rock star.
Everyone there will be on the same level and we all must start at the beginning!

Your personal guides to prosperity, Frank Mesa and Vidal Peoples are fully qualified, patient, helpful, and very experienced professionals.
You can ask them any questions you like!
They have the expertise to break it all down for you in every day language when it comes to helping you understand goal setting, planning and how to put it all together to build your road straight to big bucks!
(Also, be sure to check the bottom portion right below my signature on this invitation to learn a surprising and true fact about Frank Mesa that's not in his business bio.)

 You will learn how to understand your personal financial possibilities and define priorities. Maybe you've always wanted to know what's a balance sheet? How do I become financially organized using an inventory of assets and liabilities and what the heck are "Protection-First Financial Strategies" anyway...?
This fun, highly interactive learning experience will break down the doors to a totally new world for you that will completely change the way you view what it takes to get rich--by your own definition and no one elses'!.
Your world will rock because for the first time ever you will feel true confidence that only self-discovery can give you.
I'm sure you agree that a $5 investment in a ticket to this event is already sounding like the right start in a good direction for the life you deserve and want to create for yourself.
I promise you that you will see things very differently after you complete these 3 sessions!
Best wishes for your most amazing success at:  Learn How To Rock Your Buck!
Sincerely, Zorka
P.S. As noted above, here's a fun fact about one of your workshop instructors, Frank Mesa, which you won't find anywhere in his corporate bio. Frank appeared on the first installment of the hit Television reality series, The Amazing Race and finished in second place!
---

 Sponsor, Zorka Kovacevich, is a Certified Professional Social Media/Internet Marketer and owner of Blog A Business Card the home of the Easy $67 Web Site & Blog for Small Business Owners.
  
You are invited to subscribe to receive occasional updates about FREE resources & classes to develop your Social Media Marketing and Networking skills: 
http://blogabusinesscard.blogspot.com/p/free-classes.html
And, is the Organizer of Meetup.com groups:
New York Business Opportunity Seekers and Providers
Join us! Membership is Free
http://www.meetup.com/New-York-Business-Opportunity-Seekers-and-Providers/
Small Business Tech Tutorial Meetup
Join us! Membership is Free
http://www.meetup.com/techtutorials/about/
Contact:
Zorka Kovacevich
Blog A Business Card
196 Pinehurst Avenue 5F
New York NY 10033

Tel            1+   347-291-1367
Email        ZorkaKovacevich@aol.com

Follow Me On Twitter (I follow back!)
http://twitter.com/ZorkaKovacevich

Linkedin (Let's Connect! I'm an Open Networker)
http://www.linkedin.com/in/zorkakovacevich
Facebook (Send an invite, I like new friends!)
Zorka Kovacevich
Member
Linchpins (NYC: Top Organizer of Worldwide Linchpins Meetups Everywhere!)
Seth Godin's "Triiibes"
Ushi
Meetup.com
---
Where


Strategies for Wealth
140 Broadway
22nd Floor


New York

,

NY

10005


Organizer
Zorka Kovacevich
As a Marketing Consultant & Networking Organizer I enjoy helping like-minded people with shared interests form live & online relationships in local communities around the world for sales-driven inbound marketing, networking, socializing, education & custom list-building purposes.




Here you will find a sample list of Meetup.com Networking Groups which I manage. Please feel free to join them: PINTEREST




To learn more about the affordable Meetup platform and how I can help connect  you to a new world of customers that will generate greater profits, options to contact me are below:

 



---
Zorka Kovacevich
"Delivering on the Power and Promise of Technology"
Marketing Consultant
Networking/Meetup Groups Organizer
Telephone: 1+ 347 291 1367
Email: Zorkakovacevich@aol.com
View My Calendar to Book an Appointment For Us to Speak at a Convenient Time:
http://www.snapappointments.com/listing/18l

Social Media Connect:

 Linkedin:
http://j.mp/ZorkaKovacevichLINKEDIN

 

Facebook:
http://j.mp/ZorkaKovacevichOnFaceBook

Pinterest:
http://pinterest.com/zorkakovacevich/

Twitter:
http://j.mp/ZorkaKovacevichTwitter